Halloweening - Costumes - Corpse Bride
Three days without posts during Halloween??? OMG, you must have thought something had happened to me! LOL Nah, I was just super busy with work (in a really unfunny way) and in the evening I had to carve pumpkins because someone insisted to have 10 pumpkins for the party... Woops! But pics will follow of that later.

First of all, I have been featured!!! My first ever feature :) I am so proud! And feel so much better also of course hihi :) Check me out here where I am feature with my Sally Dress. Thanx Sunny for letting me know! *doing happy dance*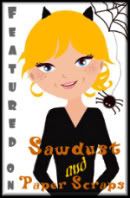 Now that thats done, do you remember the Leaf Dress? It was my master piece which was then turned into the Mombi Dress. However, all those dresses must have started somewhere right? Well, they did... the started with the Corpse Bride Dress. In 2005, during my dressy gothic days, I had a blue hair piece that I looooved to wear. Really, if I would have any choice in hair colour, it would be blue. I dont wear it anymore because it was really in bits at the end and I had to throw it away. But my love for poofy dresses (the bf hates those) and Tim Burton combined with the existing blue hair piece made we want to dress up as Corpse Bride for my first ever Halloween in London. I even made the bf dress up as Victor which was great because there was minimal dressing up on his part and a major dress for me :)
How to start? First get reference pics.
After that it was off to the charity shops, but do you know how expensive wedding dresses are? Even used they can go up to hundreds of pounds... the cheapest one I found was £30 and that was a little too much for a dress I intended to destroy anyway. But THEN I went to (what is now my favourite) charity shop and found this super hideous and dirty wedding dress. About 3 sizes too big and stains everywhere, no one wanted to buy it and the lady was even reluctant to show it to me. I got it for £4 :) It was ugly, poofy, way too big and perfect for what I had in mind. I'm still kicking myself for not taking a 'before' picture actually but alas that cant be helped now.
Then I got to work. In the end I couldnt bear cutting it up too much but the end result it not too bad... Ready? Here we go!
So for only £4, some minor accessories, and about 4 days of work I had this fantastic dress that I wore for three years in a row on every occassion I could.
Until the bf insisted I changed (see above picture haha)... which is when it became the Leaf Dress.
In this lovely time of Halloween I just had to share this dress. I hope you like it! And if not well that's too bad since it doesnt exist anymore LOL. For a while I tried to sell the non-dress parts on ebay but it didnt work... Hihi, I guess no one is as crazy as me!